Home
Barbara H. Seeber is a fiction and nonfiction writer who has produced many books for The National Geographic Society.
Her forthcoming novel, The Empresario's Wife, tells the story of a remarkable woman who helped shape the earliest beginnings of Texas. The novel reflects the author's consuming interest in history.
The Empresario's Wife
The Woman at the Center of the Texas Revolution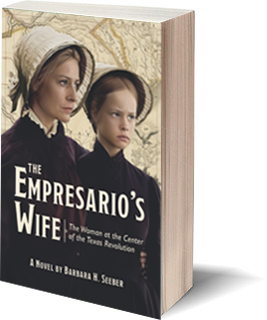 It is 1826 and Sarah Seely DeWitt finds herself at the center of Texas history in its earliest and bloodiest period.
Sarah's journey from St. Louis to Texas catches her up in a love triangle, forces her into a struggle for her family's survival, and pitches her headlong into the whirlwind of war.
Based on actual events leading up to the 1836 Texas Revolution, The Empresario's Wife chronicles the struggles of a young American Everywoman and the events that change her and the nation forever.
Like the great state founded by Barbara Seeber's characters, including her fourth great grandmother Sarah Seely DeWitt, this epic love story links the generations and events that not only made Texas, but made it integral to America. Seeber's extraordinary research defines the times and worlds of diverse peoples, while her prose, fluid and compelling, entwines grit and elegance, adventure and heartbreak. I could not put down The Empresario's Wife.

— Barbara Brownell Grogan, Former Editor-in-Chief, National Geographic Books; President, Rivanna Publishing Ventures